Description
Who is it for?
Carbonite is best for people who wish to create a backup of their files and folders securely in the cloud. Whether you are a student, an IT professional, accountant, lawyer or a businessman, Carbonite online backup can serve all your needs accordingly with the right kind of paid subscription plan.
---
Ease of use
Signing up for a free trial account is literally easy. You just have to enter your preferred e-mail address and password and confirm them by retyping them once again. Then you can select your country of residence from a drop-down menu. The only thing that will discourage you is that you always have to deal with the reCAPTCHA system so that you can prove that the computer user is a human and not a robot. You need to deal with this reCAPTCHA system when signing for an account and when logging in to your account in order to access the web user interface of Carbonite Safe. The reCAPTCHA system is actually quite annoying.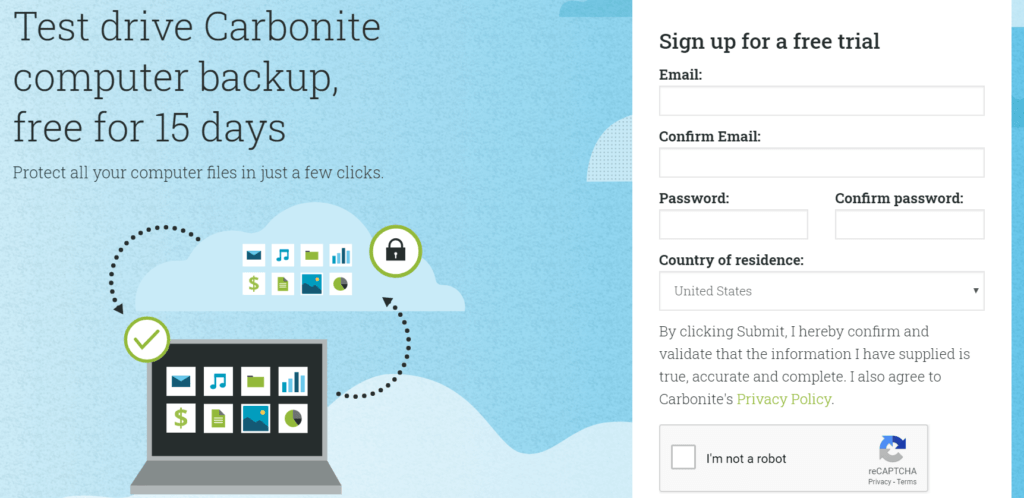 After creating an account, there will be an automatic download prompt that will appear on the screen. Depending on the type of free trial or paid plan you have signed up for, the Carbonite Safe installer online backup will automatically be downloaded.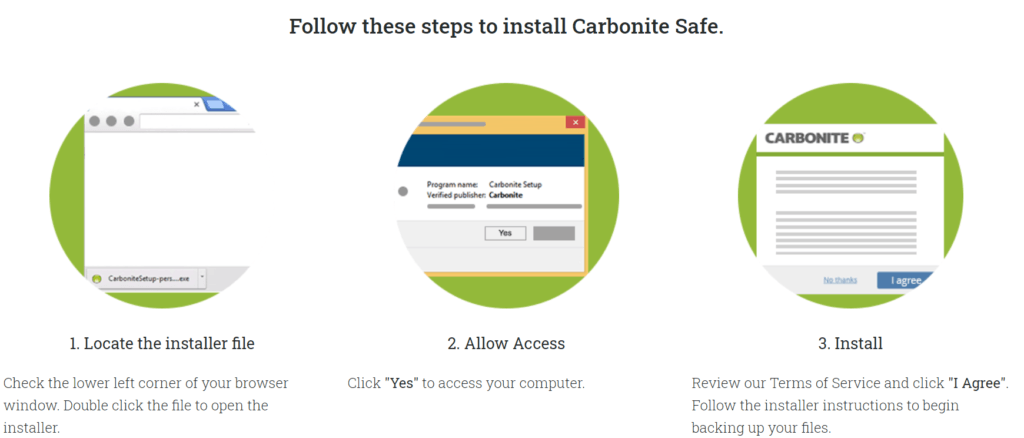 After locating the Carbonite Safe installer in the "Downloads" folder, you just need to double-click on it and allow the installer to run by clicking the "Yes" button. You then need to review the "Terms of Service" and then click the "I Agree" button. The installation will follow afterward.
During the installation of Carbonite Safe cloud backup, the program will ask you about different settings. I would definitely suggest that you consider the settings seriously during installation especially with regards to the encryption key. You will be asked whether you manage your own encryption key or if you let Carbonite cloud backup do it for you. You need to be concerned about this as you need to think first before you even click. You can't change this particular setting after the installation process.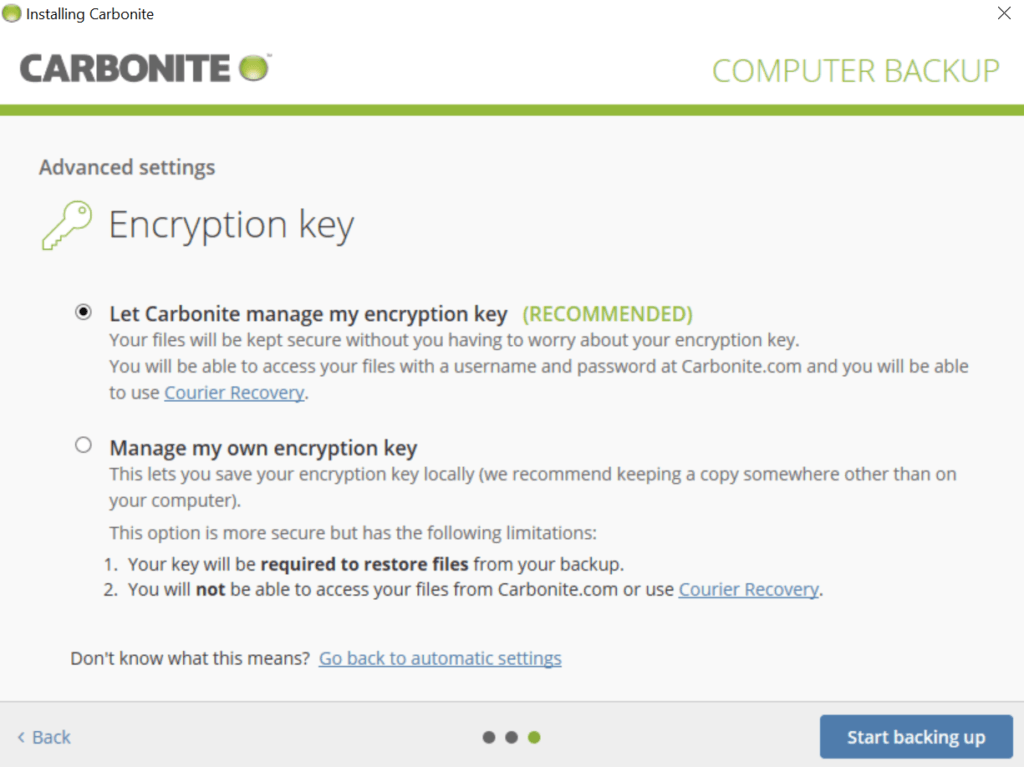 There are pros and cons between the two options. If you to let Carbonite cloud backup manage your encryption keys, it means that your files will be strongly secured using AES server-side encryption. You don't have to worry about thinking, memorizing and keeping your encryption keys all the time. You will be able to access your account with just your username (e-mail address) and password without knowing your encryption key. In this setup, accessing your account and retrieving files will become so much easier. With this option, you can also avail of this cloud backup service provider's "Courier Recovery" program.
On the other hand, if you choose to manage your own encryption keys, it means that the system will implement a client-side encryption protocol. You are in charge of your encryption key at all times. This is thereason why you need to write the encryption key down on a piece of paper or write it down on a notebook. Do not save it in a word document or notepad on your computer as it will be vulnerable to hacking attacks. Be sure you have a hard copy of your encryption key. Once you forgot your encryption key and you don't have a copy of it, everything you stored on the Carbonite Safe cloud backup is considered lost and irretrievable. You will not also be able to retrieve your files as well through the "Courier Recovery" program.
File previews & edits
You need to log-in to your account in the web user interface of Carbonite Safe in order to preview files. Don't get too much excited because only photos are allowed to be individually previewed. All the other types of files that are allowed by Carbonite Safe don't have the preview option.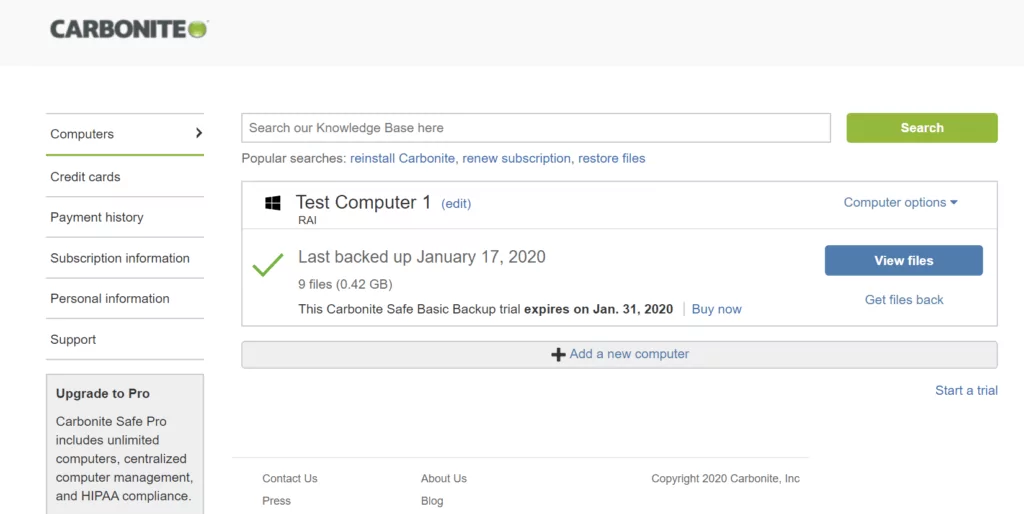 You can't also edit files from the cloud directly since Carbonite is a cloud backup provider not a cloud storage service provider. However, there are other Carbonite paid plans that come with a limited amount of cloud storage space.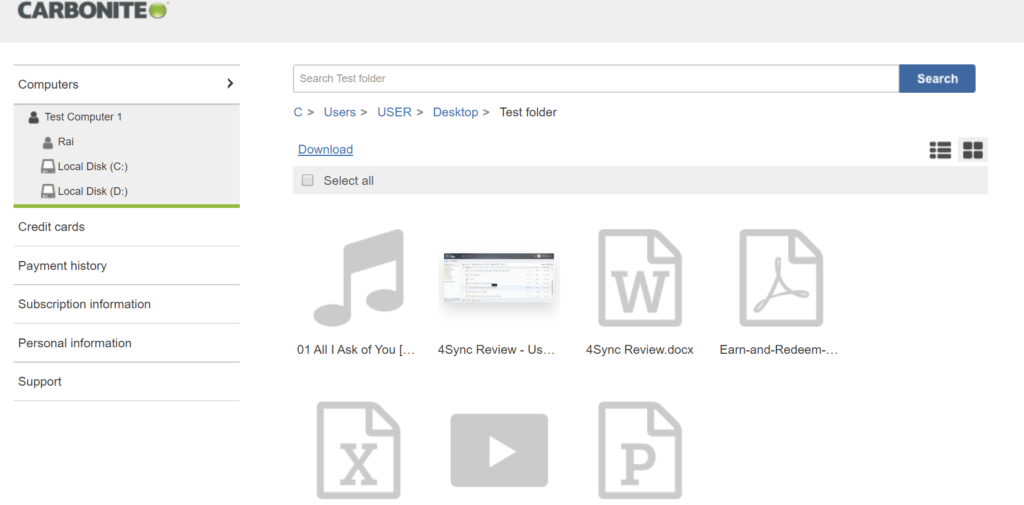 ---
File backup
It is actually easy to create a backup of your files and folders. You just need to select a file in your desktop computer or laptop, right-click the file and then an option will appear that allows you to create a backup of your file directly to the Carbonite Cloud. After clicking the "Back This Up" button, the file-syncing will start immediately. You can also do the same procedure with folders in your computer.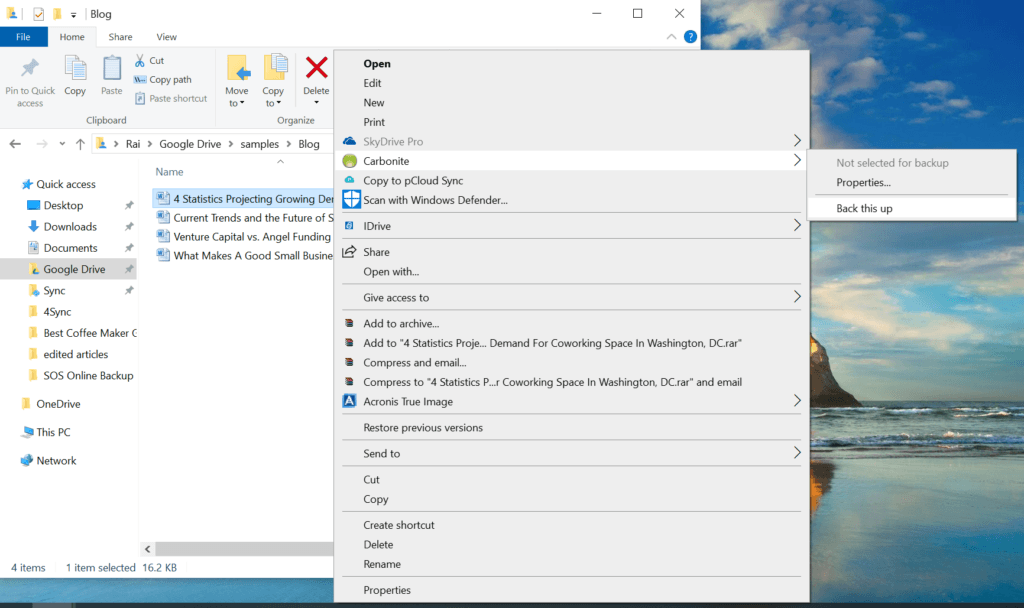 However, you must be aware that when creating a backup of a specified folder that contains video and music, the video and audio files will not automatically be backed up. You must do this process manually if you are using the Carbonite Safe Basic. Should you wish to have an automatic backup of video and music files, you must upgrade your subscription to Carbonite Safe Plus.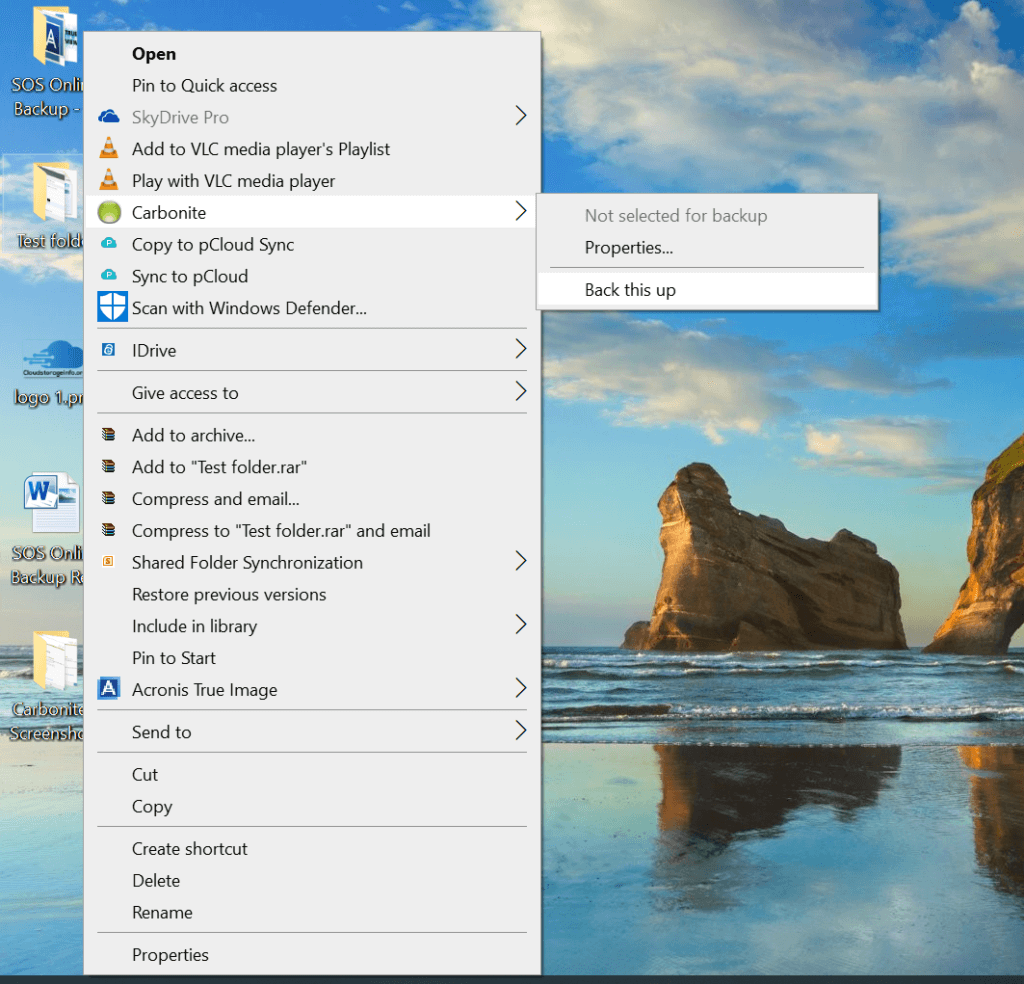 You don't need to choose the operating system of the installer. Whether your laptop or desktop computer runs on Windows or MAC, the cloud backup provider's website will download the installer instantly for you.
Operating system files, application program files, and other temporary files can't be backed up in the Carbonite Safe.  Moreover, any file exceeding 4 GB must be backed up manually.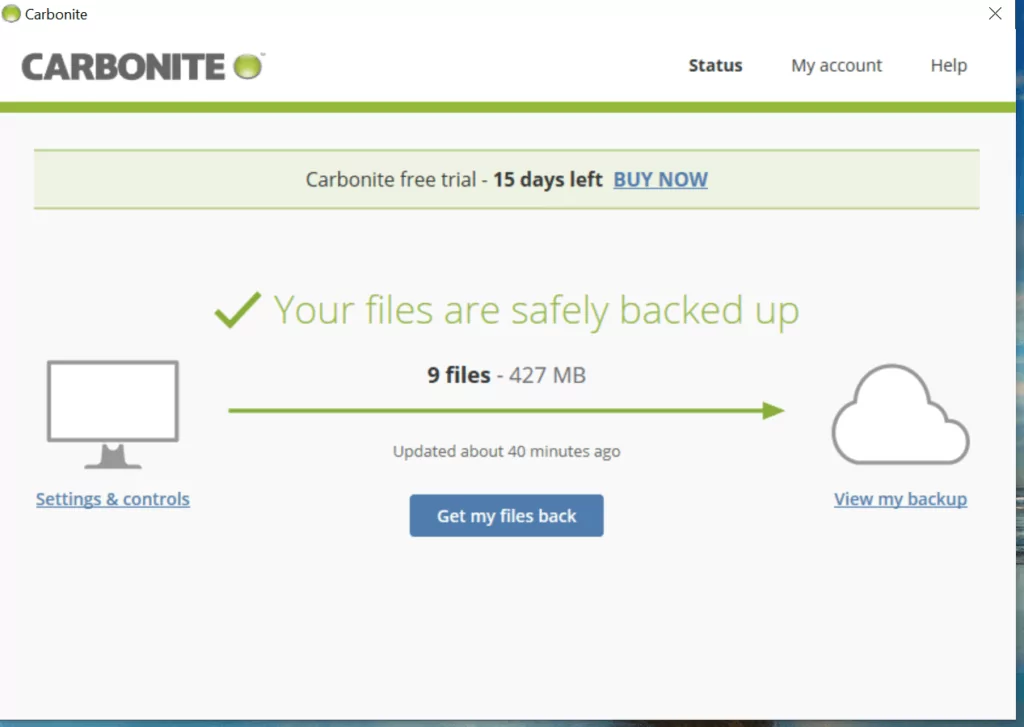 Carbonite also has a default backup selection. This includes documents, pictures, music as well as e-mails. All of these kinds of file types can be backed up all at once using Carbonite's technology.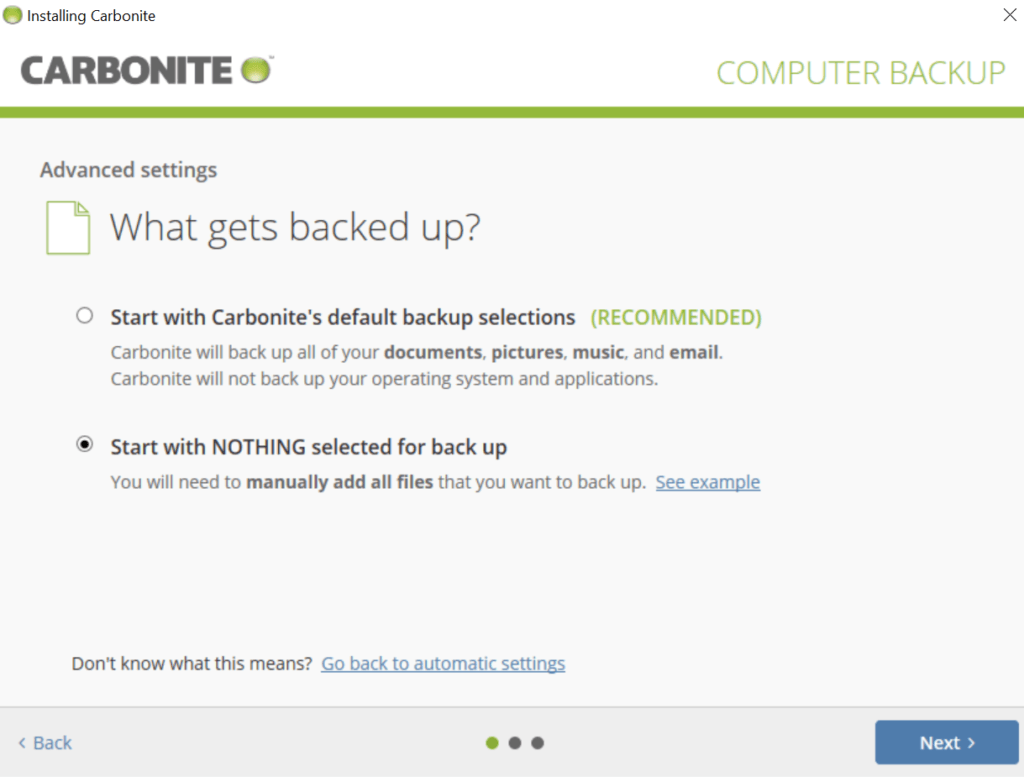 External hard drive option is available to all of Carbonite's subscription plans except Carbonite Safe Basic. On the other hand, NAS is available only to Carbonite Safe Backup Pro, Carbonite Safe Server Backup Power and Carbonite Safe Server Backup Ultimate.
You can also schedule backups but options are quite limited. You can either implement the continuous backup or schedule one backup a day at a specific time. You can also choose a specific time where the will be no backups created.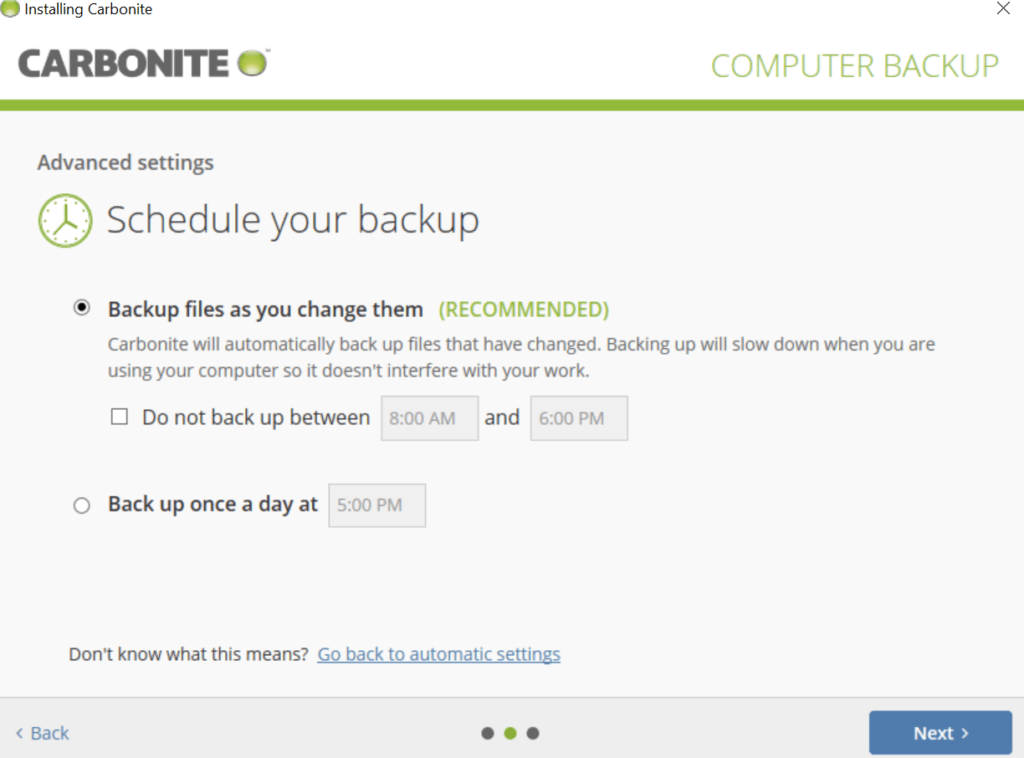 Carbonite Safe is compatible with both Microsoft and MAC OS. However, Linux is not yet supported as of the moment. Continuous backup and incremental backup are available. However, you must understand that server backup is only available to Carbonite Safe Server Backup Power and Carbonite Safe Server Backup Ultimate. You must also be aware that hybrid backup is only available in Carbonite Safe Server Backup Power and Carbonite Safe Server Backup Ultimate.
 Multi-thread backup and deduplication are not available.
Mobile Application
Carbonite has no mobile application as of the moment.
---
Speed
We tested the speed of Carbonite Safe here in the Philippines. During such time, the local internet provider has a speed of 2.00 MBPS / 2.00 MBPS download/upload speed. The results are listed below.
| | | | | |
| --- | --- | --- | --- | --- |
| 1 GB File | Internet Provider (max speeds) | Test 1 | Test 2 | Average |
| Time (Download) | 01:06:20 | 02:27:42 | 02:27:35 | 02:27:38 |
| Time (Upload) | 01:06:20 | 02:29:31 | 02:29:37 | 02:29:34 |
You can actually see that speed is way too low than the internet provider's maximum speed.
---
File restoration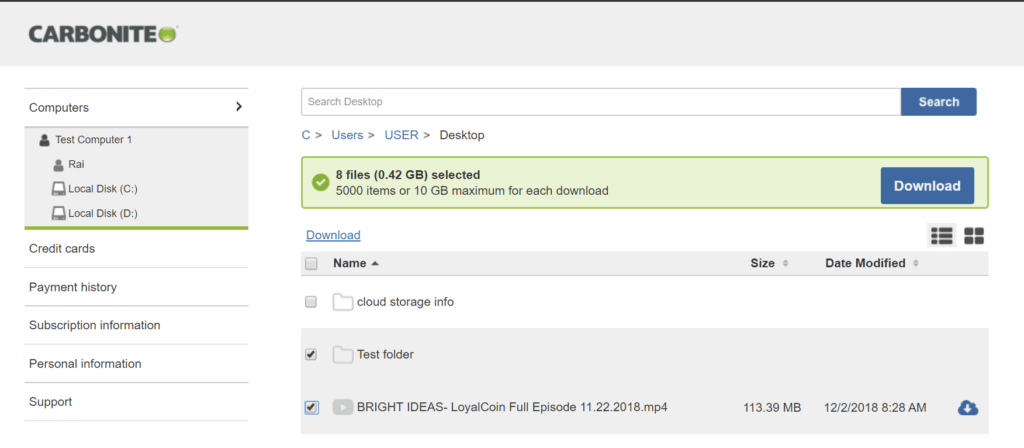 You need to log-in to your Carbonite account to access the web user interface if you wish to retrieve your files. You can restore individual files or the entire folder.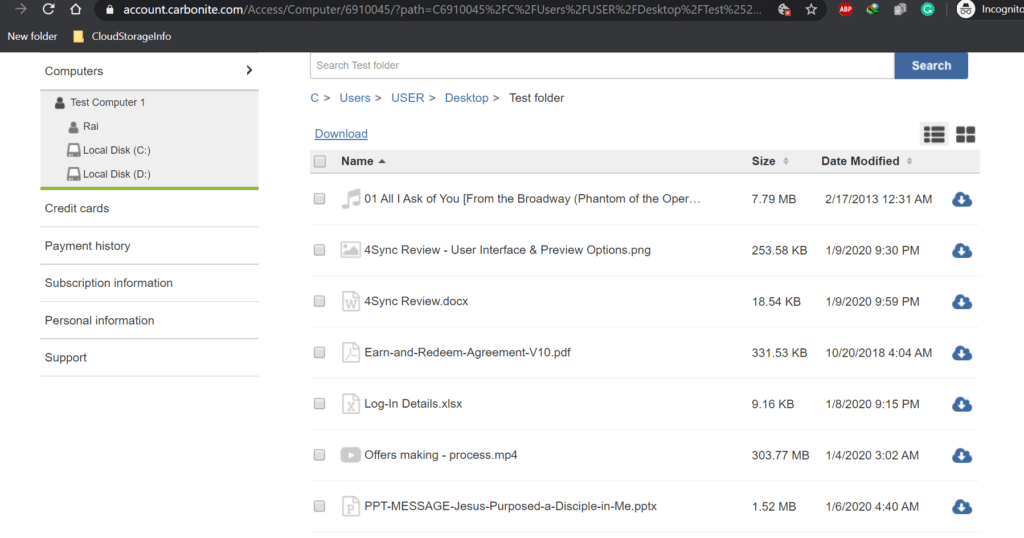 The limit for every download is 5,000 items or 10 GB worth of data whichever is higher.  Files can be restored for a maximum of 30 days.

---
Security & privacy
Carbonite offers both server-side and client-side encryption protocols. But you have to choose whether or not you want to implement the end-to-end encryption that is based on zero-knowledge privacy. Carbonite uses the 128-bit AES encryption program.  This best online backup service also offers a Two-Factor Authentication system by sending a code through your mobile phone whenever logging in to your Carbonite account. You can also set security questions that you will need in case you forgot your log-in details.
Carbonite abides by the provisions set forth by the GDPR, California Consumer Privacy Act as well as EU-U.S. and Swiss Privacy Shield Frameworks. Additional compliance certificates from FERPA, GLBA & HIPAA are available in Carbonite Safe Backup Pro, Carbonite Safe Server Backup Power, and Carbonite Safe Server Backup Ultimate.
---
Online support
Since Carbonite is a large company, online support is one of the best in the industry. They have a complete set of knowledge base and answers to Frequently Asked Questions (FAQs).
On top of that, e-mail support, chat support, and phone support are all available.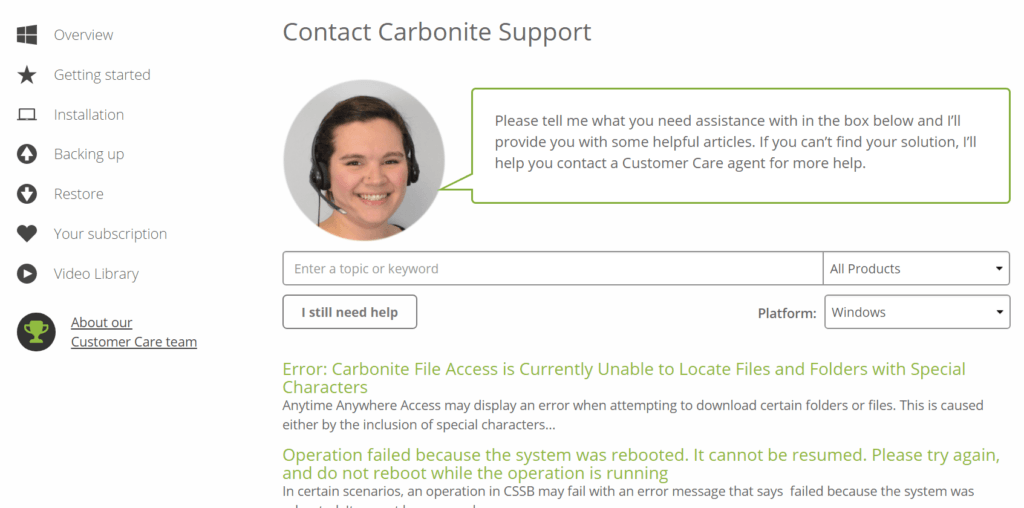 ---
Additional features
There are no additional features as of this moment that Carbonite can showcase.